Private Elementary Schools
A Foundation for the Future
Young children learn through exploration—discovering with their own senses, figuring out how things work, and engaging hands-on with their surroundings. This is why K12 Private Academy accredited online private elementary school takes care to encourage exploration and engage young students, preparing them for their futures.
Private Elementary School Curriculum
Our academic programs for grades K–5 tap into the natural inquisitiveness of young students, engaging their minds and imaginations to reinforce key concepts in meaningful, memorable ways. Direct, focused guidance comes from teachers and parents working together as they address unique student needs to ensure success.
A full list of school year K–5 courses is available. You can also find more information on specific subjects for each grade level in K12 Private Academy's course catalog. This also includes middle school and high school courses. If you have any questions or would like to learn more about a particular topic or subject area, please contact us.
A Comprehensive Online Private Elementary School
K12 Private Academy features a complete private elementary school curriculum developed by great minds in education. Specialists in primary education (including educators, reading specialists, mathematicians, biologists, and artists) partnered with designers and cognitive scientists to create an online learning experience that comes alive, quickly becoming a reliable choice for K–12 online private education.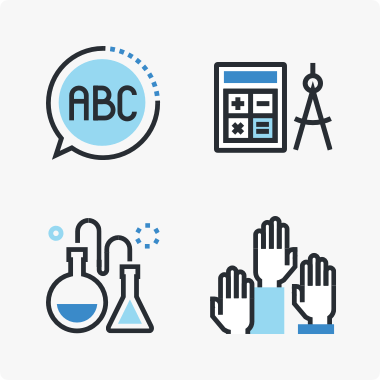 Core Subjects
For each grade in elementary school, K12 Private Academy's online curriculum includes courses in the four core subjects: language arts, math, science, and social studies. These classes provide age-appropriate introductions to and lessons in essential topics that help provide the student's foundation for their future education.
Elective Subjects
Children also have access to elective subjects that can help expand their curiosity and give them an entry into more creative spaces. Some of these options include art, music and world languages.
Class Pace
Each class is paced with flexibility in mind. This supports students who have unique learning needs. Our online private elementary school curriculum is mastery-based. For a student to move on to the next level of content, they must complete 80%–94% of a course's curriculum. At 95%, the topic is considered mastered.
Teaching Tools
Many online private elementary school courses are complemented by a wealth of hands-on teaching materials that could be found in a traditional classroom. These teaching tools lend themselves to children's natural curiosity, curating fun and learning in a memorable way. Here are some examples of hands-on teaching materials in our online private elementary school courses:
Language Arts
Illustrated children's stories and poetry, flashcards, phonics guides, and dry-erase boards.
Math
Block sets, place-value mats, activity books, protractors, and color tiles. Some courses feature advanced, adaptive technology that adjusts to your student's skill level.
Science
Thermometers, magnifying glasses, magnets, test tubes, seeds, scales, and rock and mineral kits.
Social Studies
Inflatable globes, U.S. and world maps, and textbooks.
Music
Songbooks, recorders, tambourines, and slide whistles.
Art
Paint brushes, tempera sets, watercolors, oil pastels, acrylics, and modeling clay.
Teachers, Parents, and Students Working Together
When teachers, students, and their Learning Coaches (often the student's parent, sometimes another responsible adult) collaborate, they can create a highly effective environment for learning. Elementary school students are assigned a homeroom teacher in addition to the teachers who provide instruction in the live, Class Connect sessions.
Each child is connected to a single "homeroom" teacher—a qualified professional educator with particular expertise in younger grades. This online private elementary school teacher oversees the educational experience as you work side-by-side with your child to aid their progress through daily lessons.
Parents and Learning Coaches receive a suggested lesson plan for each week that fits into their student's private elementary school curriculum. This plan automatically updates as their child advances, making it easy to check progress and communicate with the teacher.
They can be used as customizable guides, with the ability to be tailored to meet the unique needs of each student. If your child needs a bit more time on a topic one week, you can accommodate their pace.
K12 Private Academy makes managing your child's schedule easy, so you can move things around as needed. For instance, your child may do better when concentrating on one subject for longer hours, but with fewer days per week. Or some parents may choose to use their child's favorite subject as a periodic break from more challenging topics. You may even adjust the schedule to allow for days "off" where your child could play outdoors and explore the world differently.
As a parent, you have the opportunity to become more involved in your child's education by being your child's "Learning Coach" and providing necessary support to keep them on track.
For our private elementary school aged children, parents spend an average of four to six hours supporting their child's education each school day. Feedback from parents indicates this is "just right," allowing for play and exploration as well as traditional lessons.
You aren't alone with your child's studies. Their homeroom teacher remains in close contact with you and your child, communicating through regular emails, phone calls, and real-time online meetings. This teacher remains diligent, constantly involved in your child's learning, monitoring their progress, ensuring mastery, and helping develop intervention plans if needed.
How Online Private Elementary School Works
K12 Private Academy's curriculum works the same way as a traditional K–5 curriculum in a brick-and-mortar educational environment. But it has one monumental benefit — it takes place online.
Attend Classes Anywhere
Parents and students have unfettered access to an online learning system at any time and from anywhere that has an internet connection. Classes can be attended from home, on the go, or somewhere in between.
---
The Perfect Combination
K12 Private Academy is powered by a robust online learning system. Once logged in, families discover the best of both worlds; the freedom to learn in a way that works for their unique child, combined with the right amount of structure. Our private elementary school helps you take and stay in control of your child's educational process.
---
The Online Learning System
The resources and information required to complete a class successfully can be found within the online learning system. Once logged in, you can:
Access daily lessons and submit assignments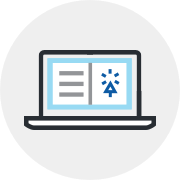 Participate in online classes
Join interactive discussions
Connect with teachers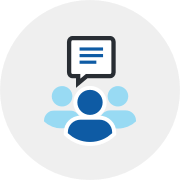 Participate in various online clubs, social activities, and virtual field trips
---
Keeping Track of Progress
Built-in planning and progress tools make it easy for parents to view online lessons, log attendance, and monitor advancement. The intuitive program includes easy-to-navigate screens that show parents exactly which classes have been completed and which ones require more work. They can also view and manage their child's schedule from these tools, making adjustments to suit their family lifestyle and child's learning style when needed.
---
Set Your Young Child Up for Success
Harness the power of technology and the flexibility of personalized private online elementary school curriculum with K12 Private Academy.