How Online School Works
K12 Private Academy combines the flexibility of an online platform with the strong curriculum of a private school. This creates a learning environment that's equitable and accessible to students from around the globe, at any age. To attend our online school, a student only needs access to the internet.
Students enrolled at K12 Private Academy can access the online learning system at any time, any day of the week. Immediate access to lessons helps support advanced learning initiatives for age groups from kindergarten through high school.
Learn
Attend online classes, complete assigned readings, watch video demonstrations, take quizzes, and complete research
Converse
Participate in live discussions and message boards to work through material and be exposed to new ideas
Experience
Solidify learned concepts through practical assignments online as well as offline activities
A School Without Walls
A K–12 online education at K12 Private Academy provides a balance of structure and flexibility. The system is designed to accommodate diverse learners with uniquely tailored lessons that keep your student engaged while allowing flexibility in the pace of their learning.
Online classes work similarly to those in conventional brick-and-mortar schools. Your student attends live classes in a virtual classroom where they engage in lessons and assignments both individually and in groups. They complete assignments offline and submit them through our platform. They can also participate in clubs and other groups to encourage social development outside of the classroom.
Our Online School Platform
K12 Private Academy's online education platform was thoughtfully designed to be comprehensive, intuitive, and robust. Our online school gives students the power to gain and stay in control of their education by providing the right amount of structure to support their learning. At K12 Private Academy, students:
Participate in live virtual classes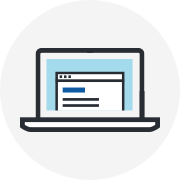 Access and submit assignments online
Engage in interactive discussions with peers and teachers
Connect with teachers for extra help as needed
Experience online clubs and virtual field trips
---
Online Private Elementary School
Young children learn through exploration, engaging with the world around them with their own senses. K12 Private Academy takes special care to encourage exploration and engage young students in an interactive way.
How does online elementary school work?
Our academic programs for grades K–5 tap into the natural inquisitiveness of young students, engaging their imaginations to reinforce key concepts in meaningful, memorable ways. Direct, focused guidance comes from parents and teachers as they collaborate to meet unique student needs to ensure success.
---
Online Private Middle School
Online learning for middle school students with K12 Private Academy is accomplished through interactive and engaging lessons. Our school offers a variety of core subjects, elective options, and social clubs so middle school students have multiple avenues to discover their passion for learning.
How does online middle school work?
Our online middle school curriculum is crafted to tap into the expanding minds of middle school students by engaging them in a personalized, teacher-supported program that offers the right amount of challenge to keep them stimulated. Teachers and parents collaborate to deliver a learning experience that drives students success.
---
Online Private High School
As students enter high school, K12 Private Academy's curriculum conforms to appeal to their growing mindsets and experiences. We drive engagement with powerful learning tools.
How does online high school work?
Our private online high school begins with strong academics combined with college and career counseling, student and family communities, the freedom of academic choices, and intuitive online tools. These assets help students identify their goals and chart a clear path to their ideal futures.
---
Online Summer School
In addition to a regular, school year academic calendar, K12 Private Academy offers a comprehensive online summer school program for middle and high school students that can help them get ahead of the curve, catch up on missed coursework, or explore exciting new classes. It can also be used to supplement a homeschool program.
How does online summer school work?
A large selection of online summer courses is available to students in grades 6–12. These courses cover a variety of subjects, including core subjects such as English, math, and science. Other more unique topics are also available, including archaeology, personal finance, and video game programming. We offer multiple sessions throughout the summer, so you can enroll your student when it's most convenient for you.
How does K–12 online school work for parents?
Parents of students at K12 Private Academy have unique access to their child's education. This allows for quick intervention on challenging topics, addressing learning gaps before the student falls behind. Parents can also access built-in planning and progress tools, enabling easy scheduling and lesson planning.
Parents support their child's education, log their attendance, and monitor their progress to ensure they're on track. The online platform displays which lessons have been completed and which require more work, making it easy to target and address any more challenging topics.
K12 Private Academy also offers events for parents and students that they can access from the online platform, helping everyone stay connected.
Discover K12 Private Academy
Encounter the powerful, fun, and engaging online curriculum that K12 Private Academy has to offer your student of any age. Enroll today or contact us with any outstanding questions.