Private Online Middle School
A Program All Their Own
Online learning for middle school students with K12 Private Academy is an interactive, engaging, and educational experience. Through a variety of core subjects, elective options, and social clubs, sixth through eighth grade students begin to emerge and discover their passion for learning.
Private Middle School Online Curriculum
Tapping into the expanding minds of middle school students, our accredited private online middle school curriculum is crafted to engage students in a personalized, teacher-supported program that offers the right amount of challenge to keep them stimulated. Teachers and parents team up to develop a learning experience that helps ensure success for each unique child.
You can access the Middle School Course list, or find more information on specific subjects at certain grade levels through K12 Private Academy's Course Catalog.
If you have any questions or would like to learn more about a particular topic or subject area, please contact us.
Comprehensive Online Private Middle School
K12 Private Academy's curriculum checks all the boxes for a K–12 online education. Carefully crafted by great minds in the field, the curriculum is a result of the combined efforts of educators, mathematicians, biologists, artists, cognitive scientists, and designers. Together, they created an online private school middle school experience that comes alive.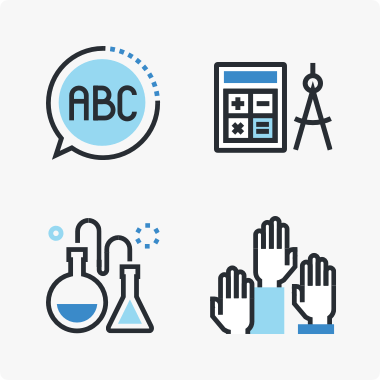 Core Subjects
Each grade in private online middle school covers the four core subjects. These classes challenge students to examine more in-depth topics while also honing critical thinking skills. These classes promote the sharing of ideas and encourage collaboration with peers. These core subjects include:
English: literary interpretation, analytical writing, and oral communication skills

Math: problem-solving skills in geometry, algebra, probability, and statistics

Science: earth, physical, and life science at standard and advanced levels

Social Studies: interconnected surveys in U.S. and world history from prehistoric to modern times
Elective Subjects
Private middle school online also provides students with access to elective subjects that help them discover and nurture their creativity and passions while expanding their view of the world. Some of these options include:
Art: studies of great works of art and the artists and cultures behind them

Music: exploration of famous composers and their works

World Languages: competency-level language development in Spanish, French, German, Latin, and Chinese

Career Exploration: discovery of in-demand career fields and possible jobs
Class Pace
K12 Private Academy has created a flexible environment that offers tailored class pacing in a supportive way. No matter the learning needs of a student, our flexible curriculum allows them to spend extra time on topics where they may need more practice and support.
Course Materials
The majority of private middle school online classes are complemented with both digital and hands-on materials to aid in the students' understanding and development of critical thinking skills.
How Online Private Middle School Works
K12 Private Academy's 6–8 curriculum delivers the same foundational educational knowledge that you'd find in a brick-and-mortar school, but it has one monumental benefit—it takes place online.
Our collaborative environment promotes optimal learning by connecting parents, teachers, and students. The learning experience can be tailored to each individual student, and parents have unique insights into their child's educational process
In grades 6–8, Learning Coaches (often a student's parent) spend two to four hours each school day supporting their student's education. This involvement helps ensure students can grasp the more complex topics such as algebra, literary analysis, world history, and physical science.
Teachers and Learning Coaches work together to guide students through the curriculum, monitor their progress, and ensure completion of each subject. Teachers offer live tutoring sessions in addition to scheduled classes to students who might need the extra help.
K12 Private Academy makes managing the private school middle school schedule simple. As the parent, you are able to move things around as needed, whether to allow your child more time on a topic or to accommodate your family's needs.
For example, you can add outside learning days to take your child to explore museums or other educational experiences beyond the virtual classroom. Or, if your child does better with longer hours, fewer days per week, you can adjust the schedule to accommodate.
Classes take place online in a virtual classroom, giving parents and students unfettered access to the convenient learning system, no matter where they are—as long as there's an internet connection. This flexibility means that classes can be attended from home, travel, and everywhere in between.
Our online private middle school helps you take and stay in control of your child's educational process with a powerful learning system that offers intuitive, tailored education for middle school students. Once logged in, the entire family can discover the balance between flexibility and structure that K12 Private Academy provides.
A School Without Walls
Students enrolled in private middle school online use the learning system to access their daily lessons, which include the information and resources required for successful lesson completion. Through this intuitive system, they also:
Access daily lessons and submit assignments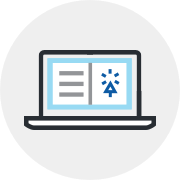 Participate in online classes
Join interactive discussions
Connect with teachers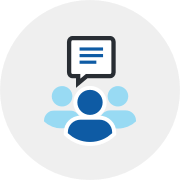 Participate in various online clubs, social activities, and virtual field trips
---
Progress Management
K12 Private Academy's private middle school offers various built-in planning and progress tools that make keeping track of your child's development simple. Parents can log in and view attendance records and online lessons, monitor advancement, and more.
The user-friendly system was designed with inclusivity in mind, so anyone can navigate through the screens and take an active role in their child's education.
View which classes have been completed and which ones require more work, so you can take corrective action to support your child in necessary subjects. Parents are also able to view and manage their child's schedule, easily adjusting to suit their family lifestyle.
---
Prepare for Success
Through powerful technology, innovative learning techniques, and the flexibility of online learning, your child can find success and unmatched preparation for high school with private online middle school from K12 Private Academy.